In the News
At Jeff Tech, we appreciate our involved students, parents, and community members. We also enjoy broadcasting our latest news and information here on our News page where we will chronicle school activities and student achievements and publish announcements. Check back often to see what's new!
Jeff Tech Students Take Field Trip to Cadillac Museum and Coolspring Power Museum
A bus load of Jeff Tech students took a field trip to visit two area museums that fit very well with their area of study.  The students that focus on automotive mechanics spent a morning at the Greenberg Cadillac Museum, the world's largest collection of Cadillacs, and the afternoon visiting the Coolspring Power Museum, a must see museum that is preserving hundreds of the world's early piston-driven stationary engines in all sizes and configurations.
The successful visit was organized by Jeff Tech and the Brookville Chamber of Commerce to build bridges between our local schools and area institutions. Jeff Tech students were accompanied by Dr. Barry Fillman, the school director, and Eric Rising, the auto mechanics instructor.
Dr Greenberg personally led the group through the three buildings of the Greenberg Cadillac Museum displaying the development of the automobile and United States of America's premier auto brand. Starting in building one, they saw familiar late model Cadillacs including the rare Mary Kay Cadillac, the New York Times Limousine, and the track-run 1973 Indianapolis Pace Car. Continuing to building two, the students went back in time and witnessed the evolution of Cadillac from the earliest 1903, 1904, 1905, and 1906 models and followed the technological advances through each decade including the 1920s Chicago gangster car, to the 1933 Clive Cussler V 12 Cadillac Town Car Landolet, to the 1940 World War II era General Eisenhower staff car, to the tail fin Fleetwoods and Eldorados of the 1950s jet age. They also visited the restoration shop building with paint booth, body shop, and engine shop where these cars are brought back to their factory specs and appearance. Dr Greenberg was very happy with the visit and said "It was great to see the interest in classic cars from these automotive students and their appreciation for the technology and craftsmanship through each Cadillac model year."
Then on to the Coolspring Power Museum where Jeff Tech students were treated to a rare assemblage of the internal-combustion stationary engines that powered America from the 1880s to the mid 1900s. Incorporated in 1985 by Dr. John Wilcox of Delaware, Ohio and Dr. Paul Harvey of Coolspring, the Coolspring Power Museum has grown into an internationally recognized collection of over 500 engines in 35 buildings (and some as big as buildings). Most of these engines are fueled by liquid petroleum or natural gas and their development paralleled Pennsylvania's oil and gas revolution that started with Edwin Drake's famous Titusville well in 1859. These engines replaced steam and water-wheel power on farms and in factories around the world. The Coolspring collection features a dizzying variety of engine designs and sizes and with their huge flywheels in motion are captivating to watch. The Coolspring docents, Jonathan Bires and Clark Colby, were also pleased with Jeff Tech's visit and remarked, "It's always rewarding when we can connect with visitors and explain how this power technology improved the daily lives of nearly everyone."
Jeff Tech's director, Barry Fillman, promised that they would be returning next year and expand the group to include others grades and interests. "The students and staff of Jeff Tech are grateful to have had this opportunity and truly appreciate the many volunteers that it took to enable our visit. It is great to see these opportunities right in our own community."
Mark your calendars! Both museums will be open to the public the third weekend each month from May through October with even more exhibits and activities. If you haven't yet experienced these amazing local attractions, you should plan a visit along with friends and family.
The upcoming openings are on Saturday, May 20 and on Sunday, May 21. The Cadillac Museum is open from 1:00 to 4:00 p.m., and the Coolspring Power Museum is optne from 10:00 a.m. to 5:00 p.m. Please visit the Greenberg Cadillac Museum website and the Coolspring Power Museum website for more information.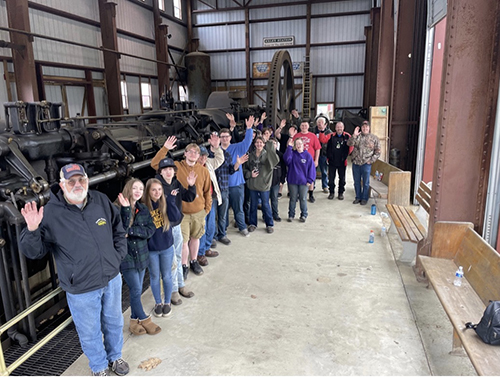 Students with "The Snow" engine measuring 75 feet long with a 18 ft diameter flywheel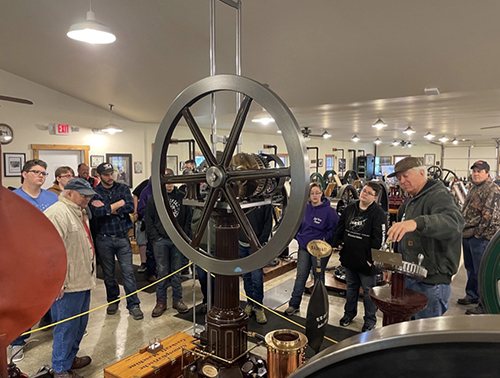 Working engine exhibits in the Susong Building one of 35 engine buildings at the museum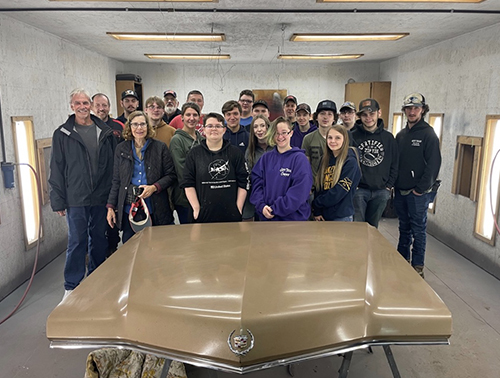 The Greenberg Cadillac Museum Paint Shop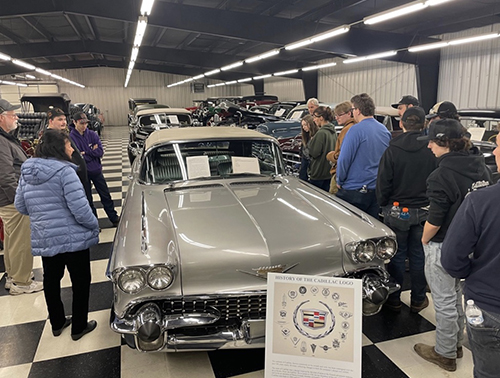 Jeff Tech Students in Building II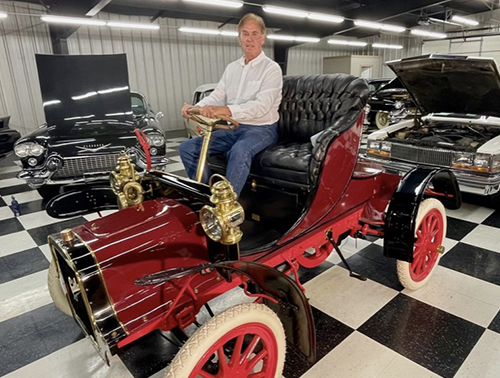 Dr Steven Greenberg seated in the historic 1903 Cadillac
Broadcast Now!
Students in the digital media arts program have been working on a competition that pairs them with a local broadcast station in our area. This opportunity gives students a learning experience into careers in broadcasting as well as the amazing changes that are happening in the industry right now. With individualized feedback from an Emmy® award-winning producer and a dedicated broadcast station contact, this student-led project will allow students to create portfolio quality media and elevate their 21st century skills.